Mattress Cleaning North Shore
Want to up the ante when it comes to keeping your home clean?  You should consider mattress cleaning. You'd be surprised to find out how much dirt, bacteria and allergens make their way into our mattresses – so much that regularly changing your sheets or mattress covers is not enough to keep it clean enough for your family!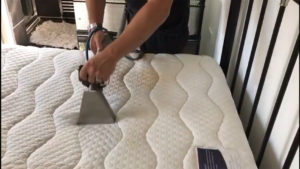 Mattress cleaning North Shore is of utmost importance because of the millions of dust mites that have called your mattress a home and contribute to any allergies that anyone in your family might have. Over the years, your mattress can accumulate several pounds of dirt and allergens that your body will come into contact with every time you sit or lie down on it. You will have to ask yourself: is this really something you would want to subject your health to?
For many, the seemingly quick solution is to give several half-hearted attempts to clean, all on their own. Despite your best efforts to air out a mattress or beat it until the allergens come out, it will not be as clean as it can really get without mattress cleaning North Shore. Our cleaning practice will give you that deep cleaning solution to ensure mattress freshness inside and out.
A Proven Method for Mattress Cleaning North Shore
Our signature cleaning service for mattresses has been known to revive and restore mattresses to a hygienic state. We take pride in using specialized tools and cleaning solutions that are proven to suck out the grime from deep within, get stubborn stains out, and sanitize your mattresses to the point that it becomes perfectly safe for you to use it again.
Our team of mattress cleaners upper North Shore experts work thoroughly yet efficiently so you do can get back to your normal routine a whole lot faster. We work with all sorts of mattresses, from beddings to tufted, cushioned sofas and give each kind of mattress a specialized cleaning routine that will work especially well with it.
The Best Mattress Cleaners North Shore
In addition, investing in regular cleaning services for your mattress has been proven to increase your its life span so you do not have to change it right away. Keeping it clean decreases its potential of becoming a health hazard and making sure that dirt and dust do not make it a permanent home keeps your mattresses in optimum condition. In the long run, you save money while keeping your family's health a top priority with regular cleaning services for your mattresses.
If you are ready to get all those body oils, pet hair, soda stains, dead skin, fungus and whatnot out of your mattresses, give us a call today and we will have one of our staff get back to you regarding your own schedule to discuss your mattress cleaning North Shore solutions.